Results and Destination Schools
At Ripley Court, we pride ourselves in preparing our pupils for a variety of leading
senior schools.
We lay the foundations for future achievements both here, at senior school and beyond by furnishing them with the learning and skills they will need to lead happy and successful lives. We work in partnership with Parents and provide additional support when making these important decisions.
In recent years, Ripley Court pupils have moved on to the following senior schools, gaining Academic, Sport, Art,
and Drama scholarships: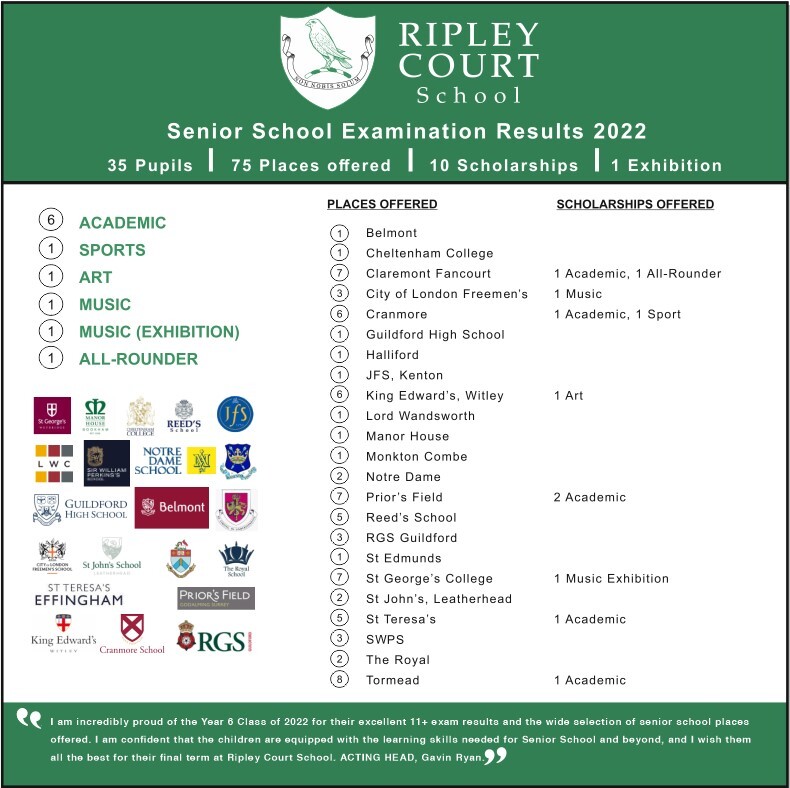 Belmont School, Dorking

Box Hill School, Dorking

Cheltenham College

City of London Freemen's, Ashstead

Claremont Fan Court, Esher
Cranleigh School, Cranleigh

Cranmore, West Horsley

Duke of Kent, Ewhurst

Eton College, Windsor

Fanborough Hill

Guildford High School, Guildford

Halliford School, Shepperton

Hampton School, Hampton

JFS, Kenton

King Edward's Witley, Godalming

Kingswood House, Epsom

Lord Wandsworth, Hook

LVS School, Ascot

Manor House, Effingham
Monkton Combe
Notre Dame
Prior's Field, Godalming
Reed's School, Cobham
Royal Grammar School, Guildford
Royal Ballet School, London
Salesian College

Salesian School, Farnborough

Sir William Perkins School, Chertsey


St Catherine's School, Bramley

St Edmund's, Hindhead


St Georges School, Weybridge

St John's, Leatherhead


St Teresa's School, Effingham
SWIPS
The Royal School, Haslemere
Tormead, Guildford
Congratulations to our Year 6 Class of 2022
Congratulations to our Year 6 Class of 2022 who received 75 offers from 23 schools and 11 scholarships and exhibitions. 6 Academic, 1 Sports, 1 Art, 1 All-Rounder and 2 Music scholarships and exhibitions.
Name of School
Numbers of
Places Offered
Scholarships / Exhibitions Offered
Belmont
1
Cheltenham College
1
Claremont Fancourt
7
1 Academic, 1 All-Rounder
City of London Freemans
3
1 Music
Cranmore
6
1 Academic, 1 Sport
Guildford High School
1
Halliford
1
JFS, Kenton
1
King Edward's Witley
6
1 Art
Lord Wandsworth
1
Manor House
1
Monkton Combe
1
Notre Dame
2
Prior's Field
7
2 Academic
Reed's School
5
RGS Guildford
3
St Edmunds
1
St George's College
7
1 Music Exhibition
St John's, Leatherhead
2
St Teresa's
5
1 Academic
SWIPS
3
The Royal
2
Tormead
8
1 Academic
Scholarships and Exhibitions offered to the Year 6 2021 Cohort.
Congratulations to our Year 6 2021 Cohort who received 60 offers from 24 schools and 12 scholarships and exhibitions. 5 Sports, 5 Art and 2 Academic scholarships and exhibitions.
Name of School

Numbers of
Places Offered

Scholarships / Exhibitions Offered

Prior's Field

1

1 Exhibition for talent in hockey and netball
1 Exhibition for talent in Art
1 Maths Scholarship

Hampton School

1

The Royal Grammar School

2

The Royal

2

1 Sports Scholarship

Salesian College

1

Box Hill School

2

St Teresa's

2

Farnborough Hill

1

LVS, Ascot

1

Kingswood House

1

King Edward's, Witley

8

1 Art Exhibition

Duke Of Kent

2

St Edmund's

6
1 Art Scholarship

St John's, Leatherhead

2

Tormead

6

1 Sports Scholarship

St George's College

3

Cranmore

5

2 Sport Scholarships

Reed's

5

1 Academic Scholarship

1 Art Scholarship

1 Sports Scholarship

Halliford

2

1 Art Scholarship

Cranleigh

1

Sir William Perkins School

1

Guildford High School

1

St Catherine's

2
Belmont
2